Approach to Trial
"They try their cases, not just litigate them."

American Lawyer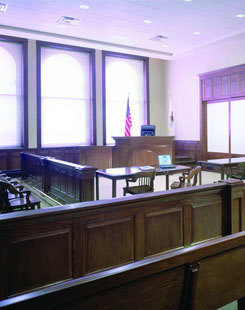 Our firm focuses only on what matters and will make a difference to the outcome of a case.
We do not charge by the hour. Instead, we enter into fee agreements that reward success and efficiency. Our goal in each case is to negotiate a fee structure that will ensure that our interests and the client's are fully aligned. Our firm's approach to fees ensures that we remain focused on results.
We approach pre-trial discovery as a tool to help prepare us to tell a convincing story at trial, not as an end to itself. We do not spend time on discovery battles that build up hours but are unlikely to contribute to a successful outcome.
At trial, we win by showing the judge or jury the evidence, rather than telling them why they should come out our way. We help them reach the right decision on their own.
To that end, we employ innovative uses of technology to explain complex concepts and to visually communicate our arguments and key factual concepts.
We establish ourselves with the judge and jury as the teacher, the reliable source of information. Our credibility is everything.
We apply this approach to all types of complex commercial cases, including patent infringement claims, antitrust actions, MDL product liability litigation, securities fraud claims, accountants' malpractice cases, breach of contract matters, and most other high-stakes litigation.
Our firm tries cases all over the country, in federal and state court. We are just as comfortable in federal court in Chicago as we are in state court in Texas.
Click below for a map of Bartlit Beck's nationwide trial experience