Innovative Technology
"Bartlit Beck … gets the attention of opposing counsel — and juries — for the way its lawyers use technology and multimedia displays in the courtroom."

AmLaw Daily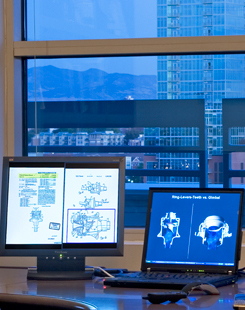 Bartlit Beck lawyers are all hands-on users of technology, both for trial preparation and trial presentation. Each lawyer has on his or her laptop immediate access to all key documents, exhibits, deposition testimony, legal analyses, pleadings, database information, and everything else related to the case, which can be sorted and analyzed instantaneously in the office, at a deposition or at trial, without waiting for support personnel. This gives us a tremendous advantage over firms that may have access to similar information but that require layers of support to access, manipulate, and present it.
In the courtroom, because we run our own presentations, we are not captives of the "linear" way most presentation software works. Depending on what a witness, an opposing lawyer, or the judge says, we can move around within a document or between documents, highlight or underline language, compare documents side-by-side, or otherwise manipulate our presentations with total flexibility. We are not stuck with a script. There is no Wizard of Oz behind the curtain. We control our own shows and the audience -- whether judge or jury -- recognizes this, which we believe gives more authenticity and credibility to the presentation.
We use demonstratives and graphics to boil down the key concepts to a few memorable images, which become the anchors of our theory of the case. In many cases, our lawyers design and create their own demonstratives. While we turn to expert help when we need it, our lawyers receive training not only in the software we use to create demonstrative evidence, but in the design and philosophical theories behind it. Because people retain more information when it is presented visually, we incorporate and rely on visual demonstratives extensively.
Click below for more on how Bartlit Beck incorporates technology into its practice