Experienced Trial Lawyers
"Near monopoly on lawyers with trial experience."

American Lawyer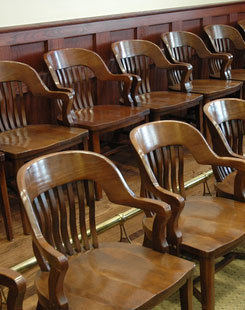 Who is trying the few complex commercial cases that go to trial? Bartlit Beck. As shown in the chart below, many of our lawyers are in trial every year.
Our trial experience gives us an advantage in knowing what really matters at trial. For that reason, during discovery we focus on developing themes and facts that will make a difference at trial, rather than unnecessary discovery disputes.
Bartlit Beck is best known for joining cases mid-stream or on the eve of trial when a client realizes that it needs sophisticated trial counsel. We have taken on many cases just before a trial was set to begin and we have delivered successful results for those clients. But Bartlit Beck takes cases at every stage of litigation. We handle cases from the outset, developing a winning strategy, from before the first papers are filed, refining that strategy through discovery and ultimately trial, and defending our successes on appeal.
Of course, not all cases go to trial. But we have found that our clients get the best settlements when the opposition is convinced that we are not afraid to try the case. With our recognition as a premier trial firm and our preparedness to go to trial, our clients get a substantial advantage at the settlement table as well. Good trial lawyers get good settlements.